We are looking for volunteers for the next phase of the Community Vision – GMPRG is now ready to consider how to turn residents' ideas from the Community Vision into projects. These will require a mixture of skills and experience, but above all enthusiasm.
How the Vision was developed
In pursuit of its key objectives GMPRG launched a Community Vision consultation in early 2018. This was the first such exercise since the CV4HP16 consultation in 2007. The purpose of the consultation was to see what still needs to be done from the last action plan, to discover new community ideas and promote them to local statutory bodies, and to initiate projects that will stimulate a renewed sense of community.
GMPRG asked residents about their likes and dislikes, their needs over the coming years and the priorities to help fulfil those needs. Also what environmental, community or social matters they thought are in need of improvement.
A four-page supplement on the public consultation was included on the centre pages 9-12 March/April 2018 The Source Issue 53 web-1
We also held workshops at Great Missenden, Prestwood and Ballinger.
Thank you to all who contributed to an excellent participation, with 229 respondents.
The top 5 were summarised in the July 2018 edition of HP16 The Source, which also featured Tora McEwan's winning photograph in the competition to demonstrate likes, dislikes and ideas.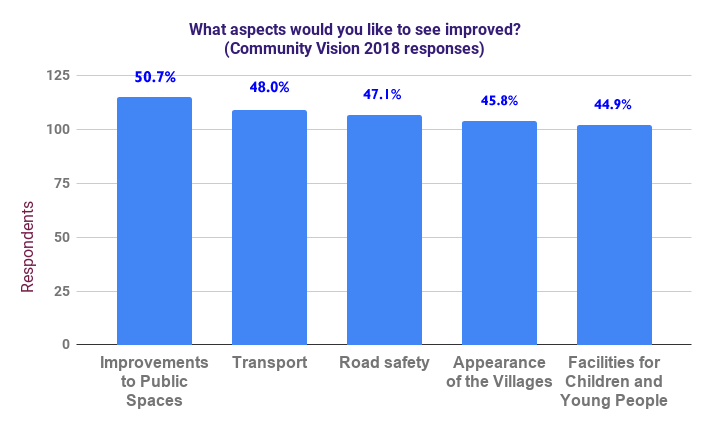 Some of the immediate concerns expressed, such as speeding, parking and potholes, are matters for District and County councils. However, GMPRG will represent the views where we can, and where appropriate, will help guide design of future projects.
There were many excellent ideas put forward and these were explored further at consultation sessions held in November 2018 and February 2019 (see gallery below)
From these, a series of themes emerged and GMPRG is organising groups of volunteers to define projects that will enhance the lives of residents. These themes were grouped under:
Improvement to public spaces and appearance of the villages
Public transport – bus service, community transport etc.
Road safety- parking, pavements, speed limits, etc.
Facilities for children and young people
Provision for cycling
Communications – social media, broadband, The Source for HP16 newspaper, business hub
GMPRG Discussion Group Events Prestwood November 2018 and Great Missenden February 2019  (click image to open gallery)
10-20 Years' Vision
In addition to current likes and dislikes, the survey also asked for residents' views on how our community should look in 10-20 years' time.
These will be analysed further in a final report, but a number of overriding themes emerged, which the word cloud below tries to capture. These include a strong will to retain the village feel, and to retain the various settlements as villages; for a sense of community ownership; for good public spaces, and retention of green spaces and care for the environment; some smartening up of the villages, with more vibrant high streets; for a good demographic mix, expressed both in terms of ages and access to housing; good amenities; safer roads, less traffic, improved public transport; and a generally safe and peaceful environment.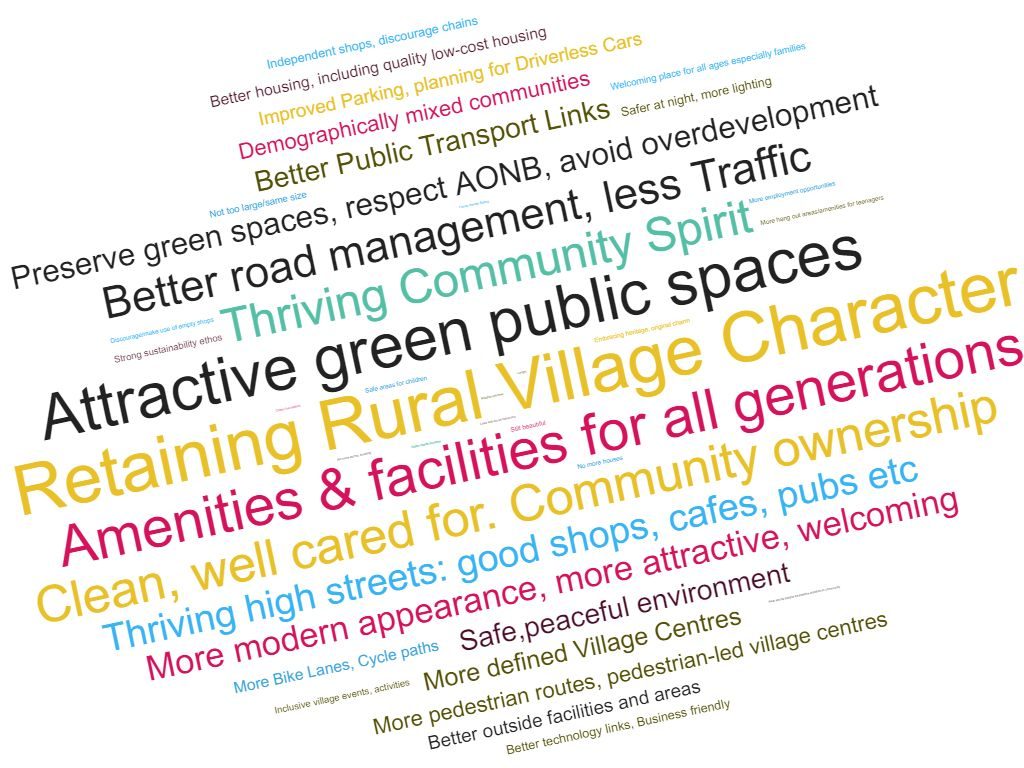 GMPRG is grateful to Buckinghamshire County Council, Missendens Local Area Forum for providing grant funding for this project.