Who we are
GMPRG works to initiate, develop and implement schemes for the social, economic and environmental benefit of the local community.
Our work covers the parish of Great Missenden including Prestwood and the villages of Ballinger, South Heath and Heath End. We are one of seven revitalisation groups in towns and villages within the Chiltern District.
By working in partnership with local groups, statutory bodies and individuals, we can develop ideas, seek funding and deliver projects effectively.
GMPRG's work is led by the wishes and needs of the community, and is currently being guided by outcomes from the Community Vision Update, a consultation with residents held in 2018.
You can download the summary report by clicking the image below, or this link: www.gmprg.org.uk/CV2018_results.pdf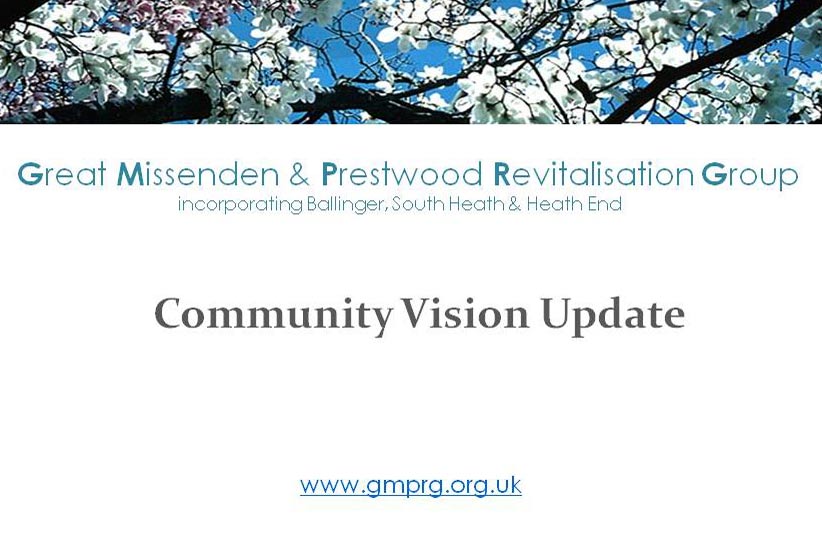 ---
Current Projects – Volunteers welcome!
Please visit the relevant pages to investigate our Previous Projects and Current Projects. At present we are especially busy on the following areas, and would welcome volunteers with an interest.
Public Space Improvements
GMPRG is working on several projects around Great Missenden and Prestwood.
Local and Community Transport
Steering Group led by John Cadman, Prestwood Village Association's Chair.
Cycling and Secure Bike Parking
Steering Group led by Parish Councillor Mike Johnstone.
Further areas of focus have been identified from the Community Vision Update – please visit Community Vision Update page.
---
Past Projects
Secure Bike Parking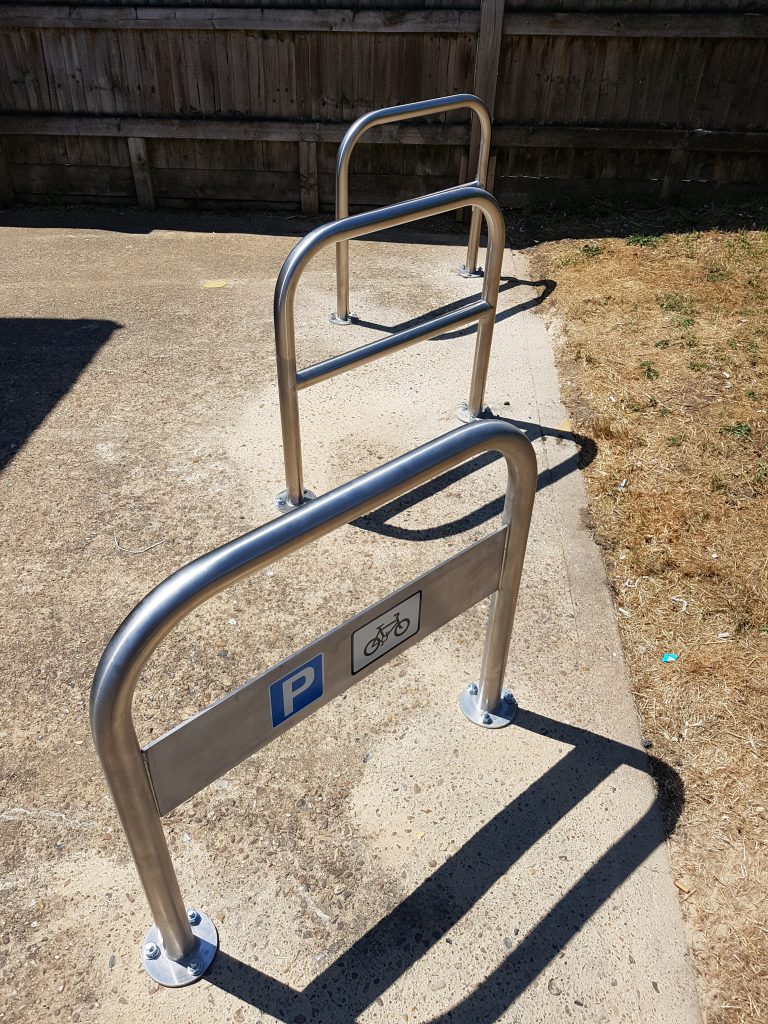 GMPRG has had success in raising money for secure bike parking projects within the Parish. Funding is currently available for further secure bike parking in the Parish.
HP16 The Source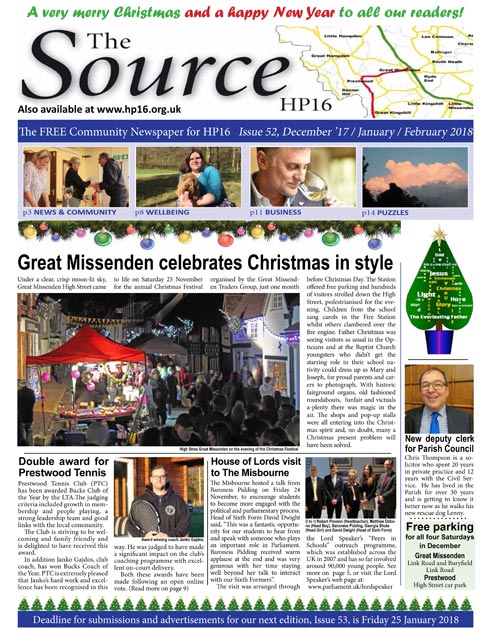 The need having arisen from the 2007 Community Vision for HP16, GMPRG worked with a range of local people and organisations to develop our own community newspaper: The Source for HP16.
Community Vision for HP16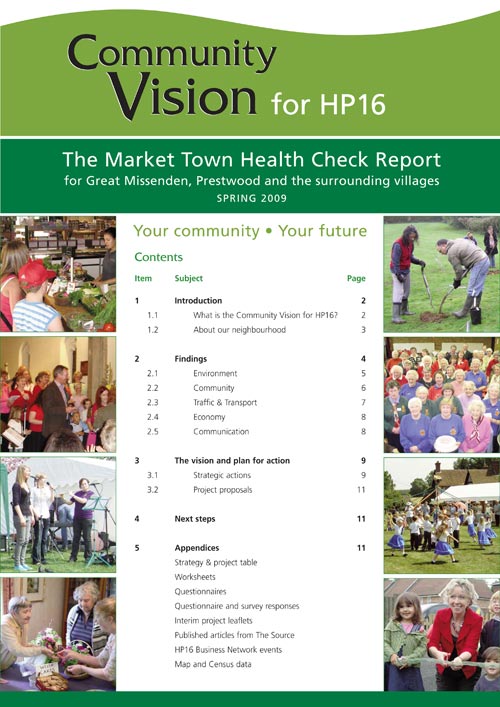 Consultation to find out what local people felt about their community in order to develop a plan for achievable projects. First outcomes circulated in November 2007. Updated by Community Vision Update 2018.
---
News
20 August 2019
GMPRG's Submission to the latest Local Plan public consultation
The consultation on the Chiltern and South Bucks Local Plan 2036 and its accompanying Sustainability Appraisal report closed on 23 August 2019. For further information see https://www.chiltern.gov.uk/planning/localplan
GMPRG updated its response to the previous 2016 public consultation taking into account the results of the Community Vision Update consultation it conducted in 2018, and the submission was made in time for the deadline.   To see GMPRG's input please click here.
2019 AGM
GMPRG's 2019 Annual General Meeting was held in the Oldham Hall, Great Missenden on Thursday 28 March.
The meeting approved the 2017-2018 year's accounts, the minutes of the 2018 AGM, and committee membership including the appointments of Barbara Rowett as Secretary and Robert Gibson as Treasurer. It went on to hear of GMPRG's plans in areas highlighted by the Community Vision Update.
A full report, including a PDF version of the presentations, with notes attached, can be found on our 2019 AGM page.
Ben Hamilton-Baillie
2 April 2019
It is with great sadness that GMPRG reports the recent death of Ben Hamilton-Baillie, the architect who designed proposals to revitalise Prestwood, by place-making improvements at the junction of Prestwood High Street and Wycombe Road on the A4128.
As can be seen in his obituary in the Guardian, 20 March,  Prestwood was very fortunate to have had help on this scheme by such an award-winning expert on the subject.
Prestwood members of the GMPRG team have all said what an absolute pleasure and privilege it was to work with such a talented and lovely man and they hope that funding for the project can be found to leave a lasting legacy from Ben to the village.
Over a hundred local residents attended a presentation of the scheme by Ben at Prestwood Village Hall back in 2016.  A film of this event is available under Current Projects.
CV Update Discussion Groups
GMPRG invited those who indicated an interest in taking part in a focus or project group via the public consultation feedback form, to attend two Discussion Group events at Holy Trinity Church Hall, Prestwood on 24 November 2018 and the Oldham Hall, Great Missenden on 21 February 2019.
Over 50 people attended the two events and participated in some great lively discussion with 37, so far, interested in helping progress identified projects.
You can find a full update report on the Community Vision update here.
GMPRG also plans to produce an Action Plan for the updated Community Vision, to provide an evidence base for future grant funding applications for projects.
GMPRG comments to Fusion
Here is a link to GMPRG's comments to Fusion in April 2018 regarding the HS2 haul road in Great Missenden and associated highway redesign and landscaping. Fusion- Comments to haul road changes