Ben Hamilton-Baillie
Tuesday, April 2nd, 2019
It is with great sadness that GMPRG reports the recent death of Ben Hamilton-Baillie, the architect who designed proposals to revitalise Prestwood, by place-making improvements at the junction of Prestwood High Street and Wycombe Road on the A4128.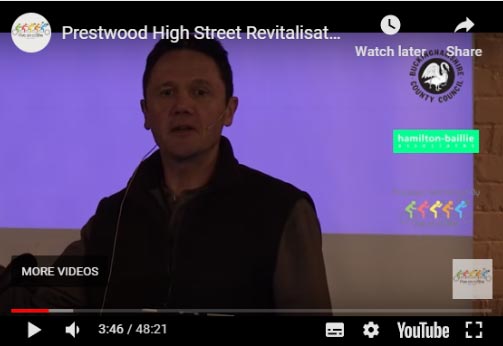 As can be seen in his obituary in the Guardian, 20 March, Prestwood was very fortunate to have had help on this scheme by such an award-winning expert on the subject.
Prestwood members of the GMPRG team have all said what an absolute pleasure and privilege it was to work with such a talented and lovely man and they hope that funding for the project can be found to leave a lasting legacy from Ben to the village.
Over a hundred local residents attended a presentation of the scheme by Ben at Prestwood Village Hall back in 2016. A film of this event is available under Current Projects.
Other Recent Posts
Thursday, November 21st, 2019
2019 has been a year in which GMPRG has worked effectively with other Parish groups, in addition to pursuing its 'own' projects. Read More...
Tuesday, October 29th, 2019
Reporting on an initial meeting with Arriva, followed by a meeting of the Project Group to review the situation and decide next steps. Read More...
Tuesday, August 20th, 2019
GMPRG updated its response to the 2016 Local PLan public consultation, taking into account the results of the Community Vision Update conducted in 2018. Read More...
Saturday, March 30th, 2019
A report on GMPRG's 2019 AGM, held at the Oldham Hall, Great Missenden Read More...