Ben Hamilton-Baillie
Tuesday, April 2nd, 2019
It is with great sadness that GMPRG reports the recent death of Ben Hamilton-Baillie, the architect who designed proposals to revitalise Prestwood, by place-making improvements at the junction of Prestwood High Street and Wycombe Road on the A4128.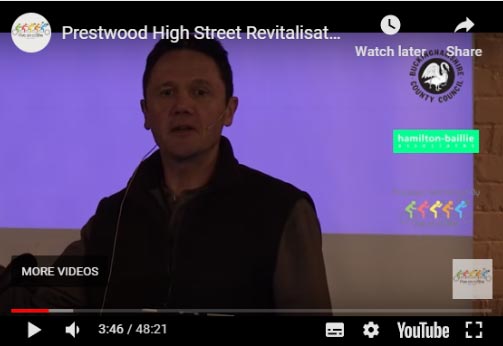 As can be seen in his obituary in the Guardian, 20 March, Prestwood was very fortunate to have had help on this scheme by such an award-winning expert on the subject.
Prestwood members of the GMPRG team have all said what an absolute pleasure and privilege it was to work with such a talented and lovely man and they hope that funding for the project can be found to leave a lasting legacy from Ben to the village.
Over a hundred local residents attended a presentation of the scheme by Ben at Prestwood Village Hall back in 2016. A film of this event is available under Current Projects.
Other Recent Posts
Thursday, April 14th, 2022
Prestwood now has a shiny new Parish and community noticeboard, in the Coop car park. This follows the installation of the Tourist Information Board in Great Missenden in the autumn. Read More...
Wednesday, March 16th, 2022
GMPRG's response to the above. Based on community feedback received from the Community Vision update, GMPRG questions how will the emerging Buckinghamshire Local Plan identify local needs so that they are met. Read More...
Tuesday, February 15th, 2022
A reminder of Ben Hamilton-Baillie's place-making scheme for Prestwood. Link to original item and some before and after photographs Read More...
Saturday, January 22nd, 2022
GMPRG gave a highly deserved vote of thanks to Carole Eaden for her hard work over the years as Chair of the Group. The meeting welcomed Christopher Black as the new Chairman. Read More...
Monday, December 20th, 2021
GMPRG's response to revised plans for revevelopment around Great Missenden Station Read More...
Wednesday, November 10th, 2021
Following on from the installation of the tourist noticeboard in Great Missenden, extracts from it have been used to put together an A4 3-fold guide, to which GMPRG has contributed funding along with the GMVA. It is also supported by the Roald Dahl Museum, Bucks Council, Missenden Abbey, The Chiltern Society and Chilterns AONB. Read More...