Midsomer on the Misbourne
Monday, February 3rd, 2020
GMPRG recently contributed to supporting the production of the Midsomer on the Misbourne Locations Trail leaflet along with other Chiltern Revitalisation Groups under Chiltern District Council's umbrella.
The Trail is the outcome of a CDC initiated workshop towards achieving the development of a visitor strategy for the Chilterns to boost local businesses and improve the local economy and footfall to local high streets, including increasing visitor numbers-to Great Missenden.
Click this link to View the leaflet – or click image below.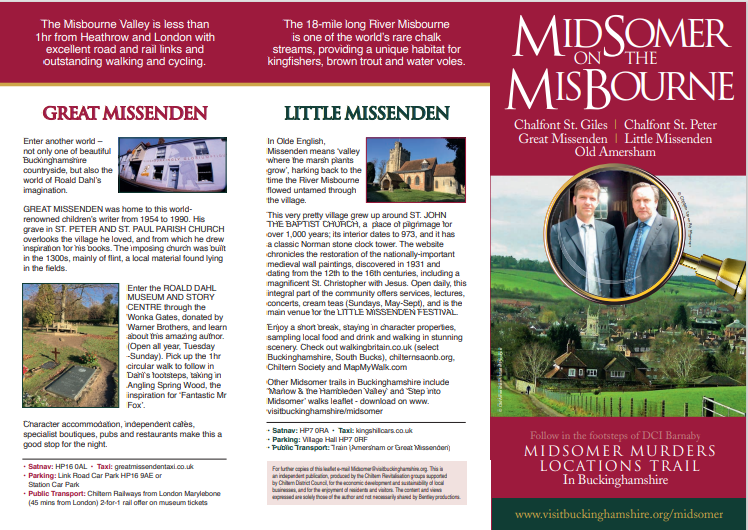 Other Recent Posts
Tuesday, October 26th, 2021
Much of what we use gets discarded when we don't need it anymore. This installation reminds us that when we leave our litter in the Natural World, it can remain in the land long after we are gone. To protect the place where we live, we need to reuse, recycle and repurpose. This project was …
Continue reading "Ecological Literacy Board"
Read More...
Thursday, October 21st, 2021
Great Missenden & Prestwood Revitalisation Group (GMPRG) is a voluntary community group, an independent not-for-profit organisation run 100% by local volunteers. As a local stakeholder, GMPRG has a number of points to raise about the development proposals as shown on Great Missenden Station website Read More...
Monday, October 4th, 2021
Simon Rhodes created an overview of national bus services. The Appendix includes a definition of Community transport and associated data taken directly from the Council website. Read More...
Friday, November 27th, 2020
With the installation of a new noticeboard, visitors are now welcomed to Great Missenden in a way that befits the beauty, history and ecology of the village at The Heart of the Chilterns. Read More...
Saturday, October 3rd, 2020
A memorial bench dedicated to John Skrimshire (1941-2016) has been installed close to the Pocket Park on the Buryfield, Great Missenden, where John used to enjoy times with his grandchildren. Read More...
Friday, March 20th, 2020
Next steps will focus on wider public support including a survey of commuters using Great Missenden station and local residents. Read More...