New Noticeboards in Prestwood and Great Missenden
Thursday, April 14th, 2022
GMPRG is very pleased to announce the fruition of the second of two noticeboard projects.
New Prestwood Noticeboard
Prestwood has a shiny new board for 'Parish & Community Notices' in the Coop car park in Prestwood. This has replaced the previous noticeboard which was well used, but very much on its last legs!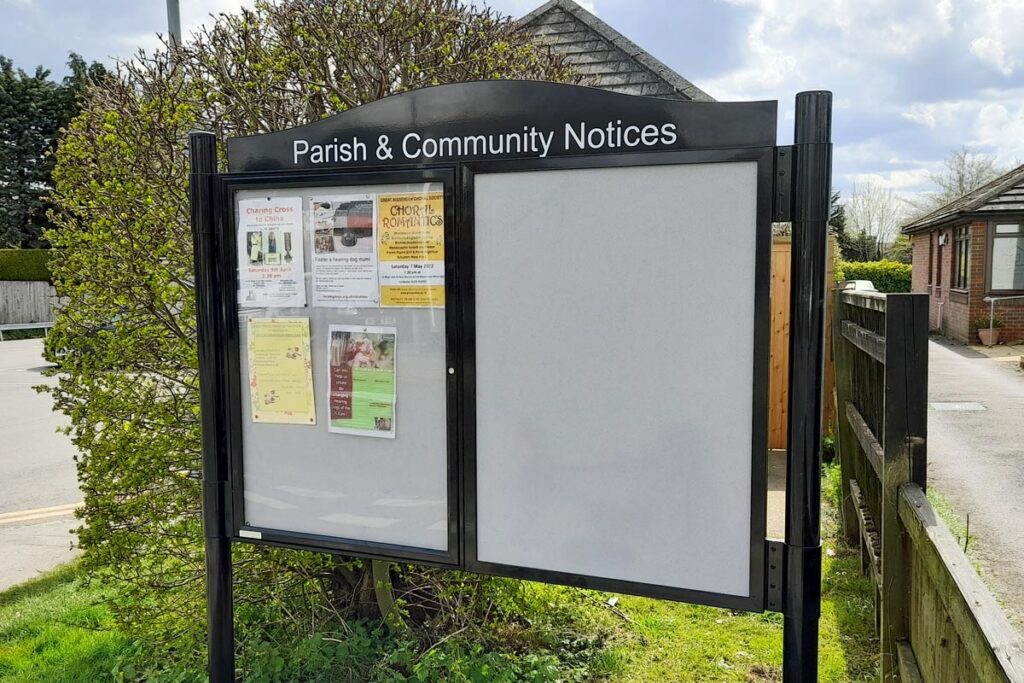 The board has a lockable section for Parish Council notices, and a section accessible to all.
For the new board and works in the car park, GMPRG applied for grants from the old Chiltern District Council and Midcounties Coop. We commissioned the board and then organised installation, including liaison on placement with Parish Council and Buckinghamshire Council.
Look out for some further improvements in that area in the near future!
Great Missenden Tourist Information Board
The Great Missenden Tourist information board was completed last autumn – see our earlier detailed post. It is an attractive addition to the High Street, and immediately became an important point of reference for visitors. Many of the village's attractions are detailed on an attractive map, there is a brief explanation of Great Missenden's history and position within the Chilterns, and clear signage towards the Roald Dahl Museum. There is also a section for notices.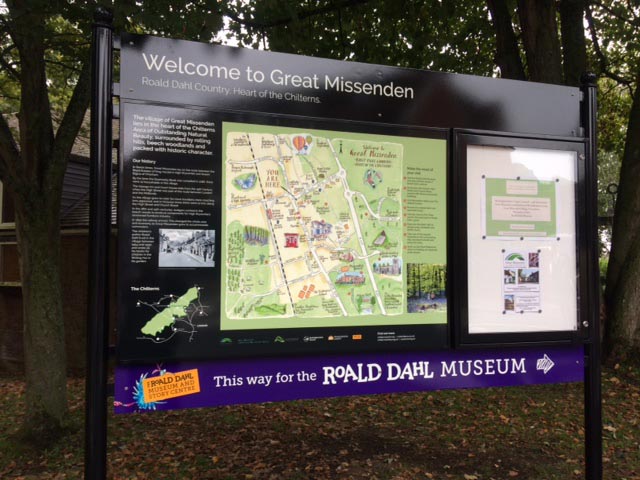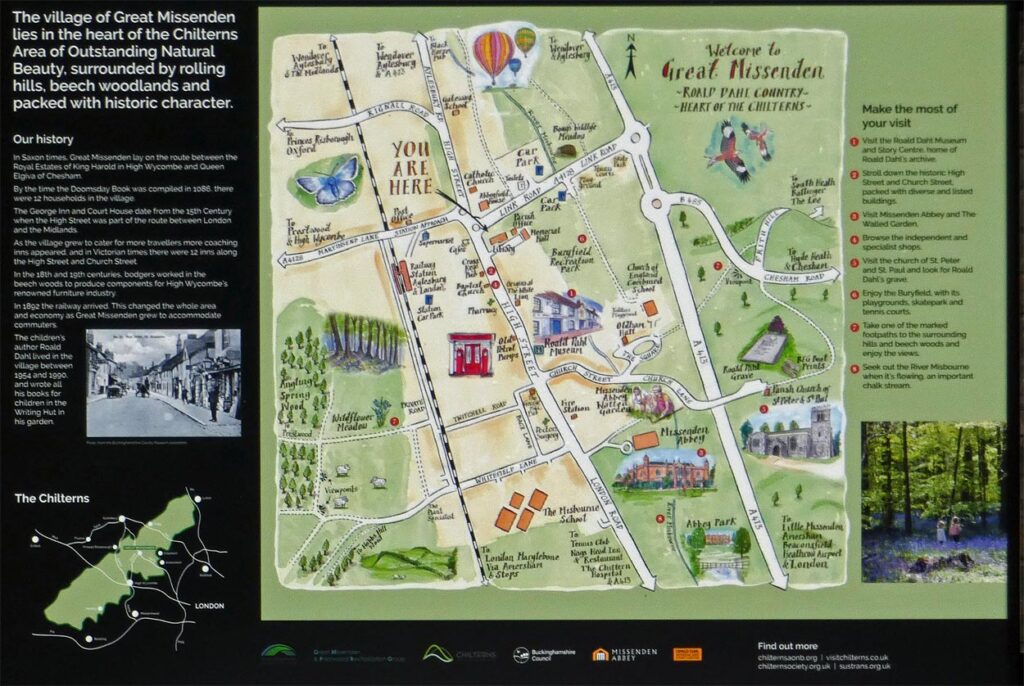 The Tourist Information board was the result of a collaboration between GMPRG and Great Missenden Village Association (GMVA), with funding from both, and project managed by Carole Eaden (GMPRG) and Mike Wintgens (GMVA). Funding also came from Chiltern District Council and Bucks CC (LAF and Community Leaders grants), and the Roald Dahl Museum.
The artwork and text was then taken forward also into an attractive and very useful local guide leaflet.
Other Recent Posts
Wednesday, March 16th, 2022
GMPRG's response to the above. Based on community feedback received from the Community Vision update, GMPRG questions how will the emerging Buckinghamshire Local Plan identify local needs so that they are met. Read More...
Tuesday, February 15th, 2022
A reminder of Ben Hamilton-Baillie's place-making scheme for Prestwood. Link to original item and some before and after photographs Read More...
Saturday, January 22nd, 2022
GMPRG gave a highly deserved vote of thanks to Carole Eaden for her hard work over the years as Chair of the Group. The meeting welcomed Christopher Black as the new Chairman. Read More...
Monday, December 20th, 2021
GMPRG's response to revised plans for revevelopment around Great Missenden Station Read More...
Wednesday, November 10th, 2021
Following on from the installation of the tourist noticeboard in Great Missenden, extracts from it have been used to put together an A4 3-fold guide, to which GMPRG has contributed funding along with the GMVA. It is also supported by the Roald Dahl Museum, Bucks Council, Missenden Abbey, The Chiltern Society and Chilterns AONB. Read More...
Tuesday, October 26th, 2021
Much of what we use gets discarded when we don't need it anymore. This installation reminds us that when we leave our litter in the Natural World, it can remain in the land long after we are gone. To protect the place where we live, we need to reuse, recycle and repurpose. This project was …
Continue reading "Ecological Literacy Board"
Read More...