Protecting Chiltern from unfettered nighttime noise from Luton Airport
Sunday, January 5th, 2020
One of the overwhelming themes among the responses to GMPRG's was the appreciation of our surroundings, the natural beauty and peace of the Chilterns, and the desire to preserve them as much as possible.
In this spirit, GMPRG made a submission against an application by London Luton Airport Operations Limited to relax the day and night noise contour restriction imposed on their 2015 planning consent.
Great Missenden & Prestwood Revitalisation Group recorded its concern at the potential extension of the daytime and night time noise contours potentially impacting on this part of the Chilterns in between 2020 to 2024.
We pointed out that the Chiltern Hills are mainly an Area of Outstanding Natural Beauty, set between two extremely busy airports, London Heathrow and London Luton. As such any increase in the level of noise over the area would be damaging to the quiet enjoyment of this scenic environment.
A copy of our submission can be read below: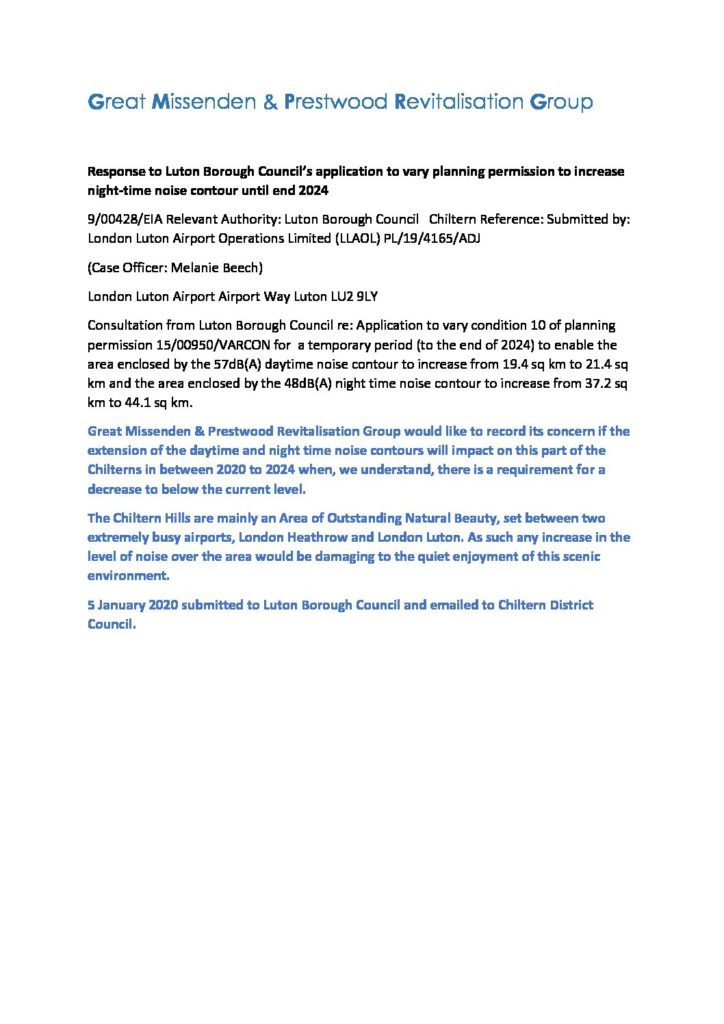 Other Recent Posts
Thursday, April 14th, 2022
Prestwood now has a shiny new Parish and community noticeboard, in the Coop car park. This follows the installation of the Tourist Information Board in Great Missenden in the autumn. Read More...
Wednesday, March 16th, 2022
GMPRG's response to the above. Based on community feedback received from the Community Vision update, GMPRG questions how will the emerging Buckinghamshire Local Plan identify local needs so that they are met. Read More...
Tuesday, February 15th, 2022
A reminder of Ben Hamilton-Baillie's place-making scheme for Prestwood. Link to original item and some before and after photographs Read More...
Saturday, January 22nd, 2022
GMPRG gave a highly deserved vote of thanks to Carole Eaden for her hard work over the years as Chair of the Group. The meeting welcomed Christopher Black as the new Chairman. Read More...
Monday, December 20th, 2021
GMPRG's response to revised plans for revevelopment around Great Missenden Station Read More...
Wednesday, November 10th, 2021
Following on from the installation of the tourist noticeboard in Great Missenden, extracts from it have been used to put together an A4 3-fold guide, to which GMPRG has contributed funding along with the GMVA. It is also supported by the Roald Dahl Museum, Bucks Council, Missenden Abbey, The Chiltern Society and Chilterns AONB. Read More...